Every Body's Personal Trainer, York's fitness training service provider is pleased to announce that they have launched new services in new locations. They now offer in-home personal training services by qualified personal trainers in Lancaster PA, Ellicott City MD, and Falls Church VA areas. Customers can now experience the convenience of in-home personal training in the above locations. And due to the ongoing pandemic, customers can also avail of virtual personal training irrespective of location. This service has garnered an immense response from clientele who prefer working out from their homes and not visiting a gym.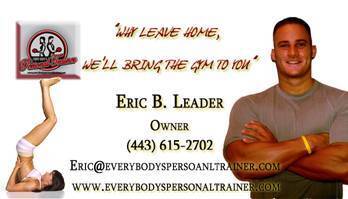 Every Body's Personal Trainer offers personal fitness training sessions for everybody. The personal trainers in Falls Church, Lancaster, and Ellicott City ensure clients feel comfortable and have their questions answered before working as personal trainers. Those interested can now contact a team and get a free, no-obligation consultation with one of the personal trainers in Ellicott City and other locations. Every personal trainer is certified, trained, and experienced. They are professional coaches who bring the gym home. So, people don't have to get intimidated by the crowd at a gym.
Personal trainers in Falls Church and other locations visit the client's home with all the necessary equipment. They also prescribe fitness and nutritional programs to help clients reach their personal fitness or weight loss goals. And the icing on the cake is that these sessions start from as low as $55 per hour. There is no need to worry about what equipment to work on or what kind of workouts to do. The personal trainers in Ellicott City and other locations will devise a plan that best suits the body.
The fitness staff at Every Body's Personal Trainer are experts in weight loss, weight reduction, body sculpting and toning, muscle building and hypertrophy, cardiovascular training, aerobics, balance, and flexibility training, body fat analysis and composition, nutrition, and nutrition analysis. The personal trainers in Lancaster, Ellicott City, Falls Church, and other locations operate on convenient schedules for their clients. So, if it is a home, office, park or any other space, these personal trainers are available for sessions in any place of choice. The company believes that its clients would witness the results they are looking for in a series of regular sessions, not just one. That is why their charges are competitive and backed by flexible payment plans. Their goal is to help everyone with affordable personal training sessions.
To learn more visit http://www.everybodyspersonaltrainer.com/getting_started_with_in_home_personal_training.htm
About Every Body's Personal Trainer
Every Body's Personal Trainer was started in 2007 by Eric Leader. After working for several years in commercial gyms and fitness institutes, Eric understood that personal training should be personal and it does not happen with all the noise and commotion. Eric missed being able to communicate with his clients and so came the idea of setting up a service where customers can get in-home personal training.
###
Contact
Every Body's Personal Trainer – York, PA
Phone: 443-615-2702
Email: Eric@everybodyspersonaltrainer.com
Website: http://www.everybodyspersonaltrainer.com/
newsroom: news.38digitalmarket.com

Source: 38 Digital Market News
Release ID: 565085
Original Source of the original story >> Every Body's Personal Trainer Launches New Services in New Locations